edars ernest was a certifiable goofball. He was a purebred Shire, a type of British draft horse that once specialized in hauling carts of ale. Nicknamed Ernie, he tipped the scales at more than a ton, and had a chocolate-brown coat with luxuriant white hair feathering his hooves. His owner, Nicole Carloss, a horse trainer in Queensland, Australia, adopted him in 2013, when he was 7 years old, and he immediately found his place in her family.
"He would burst open the screen door and try to do the dishes with you," Carloss said. When her children played in their sandbox, Ernie would plop his front hooves down next to them. Carloss took Ernie to compete in shows throughout the state, where he would strut around with a sequined browband. "He stole everybody's heart," she said.
In August 2016, Carloss came home from work and headed out to the fenced pasture to visit Ernie. He lifted his head dolefully, like Eeyore from Winnie-the-Pooh. His eyes were empty, his breathing was strange, and he wobbled when he walked. Carloss suspected he might have been bitten by a snake, but she saw no fang marks on his legs.
She called a local veterinarian and described Ernie's symptoms. The vet asked Carloss if her horse had been vaccinated for Hendra.
"No," she replied.
Carloss had anticipated the question, but that didn't make it any less unsettling. Hendra is a deadly virus that is endemic in Australia and is spread by bats. Since the first documented outbreak in horses in 1994, Hendra has killed 102 of the animals. It kills people, too: On seven occasions, it has crossed from sick horses to the veterinarians and other professionals attending them, leading to four excruciating deaths. For the last six years, the animal-pharmaceutical company Zoetis—previously a Pfizer subsidiary—has sold a vaccine called Equivac to prevent horses from contracting the virus.
A lot of horse owners, however, don't vaccinate against Hendra, citing its expense, the rarity of the disease, or anecdotal reports of severe side effects. According to a survey published last year in the journal plos One, approximately 43 percent of horse owners in Queensland haven't vaccinated their horses. In some inland parts of the state, that number is as high as 70 percent.
"I don't believe in injecting chemicals into horses, especially if it's not tested," Carloss said, referring to the fact that regulators, citing the danger posed by an outbreak, initially allowed the vaccine to be sold under a provisional license. "More people get hit by cars or shark attacks."
Many vets see the situation differently. Because Hendra is ranked in the same biosecurity category as Ebola, vets called out to treat unvaccinated horses are legally required to don protective masks and clothing, and the amount of care they can provide is limited until Hendra can be ruled out with a test—a process that typically takes a day or more. The vaccine has divided the horse community, pitting owners against vets and revealing that science alone is not enough to prevent the next global pandemic. "People are very complex," says Raina Plowright, a disease ecologist at Montana State University who studies Hendra. "You can't roll out a vaccine and think everything will be okay."
After the first vet declined to see Ernie, Carloss called a clinic in the next town, where the lead veterinarian was president of Equine Veterinarians Australia. He, too, refused. "I rang every vet from Harvey Bay to Gatton," Carloss recalled this April as I sat with her on her front porch.
She told me that as night fell, Ernie's behavior became more erratic. He would rear up and fall onto his back into the scrub. By 2 a.m., Ernie lay on his side in the grass. Carloss stroked his head as he let out his last breath. "When you can't help your horse," she said through tears, "what are you supposed to do?"
---
Hendra was once just the name of a suburb of Brisbane, tucked between the international airport and the horse racetrack. Then, on September 7, 1994, Vic Rail, a 49-year-old horse trainer, brought a pregnant mare named Drama Series back to his stable. She wasn't looking good, and Rail suspected she might abort her foal. He called his vet, Peter Reid, to examine her. Reid found that she had a high temperature, swelling around her lips and jaws, and a partially paralyzed tongue. "I wasn't sure what the diagnosis was," he says.
The next morning before dawn, Rail checked on Drama Series. When he opened the stable door, she staggered out, collapsed onto the ground, and died on the spot. Twelve days later, Reid got a call from Rail's fiancé, Lisa. More of the stable's horses had fallen ill. "How many?" Reid asked.
Some horses were so sick that they were drowning from fluid in their lungs, and Reid had to euthanize them immediately. Reid conducted autopsies in Rail's front yard and sent samples to a pathology lab. The lab tested for African horse sicknessand for toxins, including strychnine. The tests kept coming back negative. As the scientific hunt unfolded, Rail himself began to feel as though he had caught the flu. He was admitted to a hospital and, within a week, his organs were shutting down. On September 27, he died of cardiac arrest.
Scientists at the Australian Animal Health Laboratory in Geelong, near Melbourne, one of the country's highest-level biosecurity laboratories, soon isolated a never-before-seen paramyxovirus—the virus family that includes measles and canine distemper—from the horse tissue. They christened it Hendra. When the outbreak finally waned, at least 20 horses had been infected and 13 of them had died or were so sick they had to be euthanized.
Researchers eventually determined that flying foxes, a large fruit bat common around Brisbane, were the natural reservoir for the disease. Based on the four human deaths, Hendra's fatality rate equals or exceeds that of Ebola. Unlike Ebola, however, Hendra is not highly contagious: Horses only cough in the final stages of infection, and human-to-human transmission has never been documented. But if the virus mutates, it could spread beyond Australia's shores and become the next global plague. Nipah, a closely related virus from flying foxes in Southeast Asia, is already considered a pandemic threat because of its ability to spread from person to person. A Nipah outbreak that struck India in May killed 13 people, bringing that virus's death toll to 196 people since 2001.
In 2011, after Hendra killed 24 more Australian horses, veterinarians and horse owners clamored for a solution. The president of the Thoroughbred Breeders Queensland Association suggested in a newspaper op-ed that the state should consider culling bats. "It is no different to culling kangaroos to protect farming land, or netting sharks to protect swimmers," he wrote. "When human lives are at stake these types of measures need to be taken."
Others thought a vaccine was the answer. Building off work conducted by the U.S. military to fight Nipah, Australian scientists pursued several vaccination strategies. They posited that a horse vaccine, rather than a human one, would have a larger commercial market and would be able to meet regulatory approval more quickly, while also achieving the goal of preventing the infection from spilling over into people.
Early results from the trial were promising: Seven horses given the vaccine provedimpervious to infection. The government fast-tracked its release in November 2012, allowing Zoetis to market it under a so-called minor-use permit, which required veterinarians to administer it in order to collect safety and efficacy data. Now, there's no question that it works. Since the 2012 release, 20 horses have died of Hendra. None of them were vaccinated.
In early April, I met Reid in Hendra and we drove out to the site of Rail's old stable. "I'm going to take you where it all started," he told me. Although Rail's stable has been replaced with a spare, modern home, the neighborhood is still a hub for racehorse activity. Down at the end of the street, we saw three thoroughbreds clop-clopping down the pavement behind their strappers, out for their afternoon walk.
Reid, who is 70, still practices horse medicine, but he also remains deeply involved in Hendra-related research and policy. Back in 2010, he flew to the Australian capital of Canberra to plead with Parliament to fund the vaccine trials. "My goal was that we would never see another case of Hendra virus again," he told me. "This vaccine seemed to be the answer."
---
Anti-vaccine movements have existed for almost as long as there have been vaccines. That's in part because one unintended consequence of a successful vaccination campaign is that few remember just how bad the disease actually was.
Since the 1970s, when the threat of childhood diseases began to wane, anti-vaxxers have raised the alarm about potentially toxic ingredients in vaccines, and about unproven side effects such as autism, irritable bowel syndrome, and neurological problems. These fears, amplified by social media, have led to declines in vaccination coverage and outbreaks of measles, mumps, and whooping cough in the affluent, educated communities where anti-vaccination sentiment tends to concentrate.
Similarly inflated concerns have begun to turn some pet owners away from mainstream veterinary medicine. An article last year in the Brooklyn Paper quoted a vet who had an owner refuse to vaccinate her dog for fear it would develop autism. "We've never diagnosed autism in a dog," the vet said. "I don't think you could."
No anti-vaccine movement among animal owners has ever gained quite as much traction—or posed such a threat—as the one surrounding the Hendra cases in Australia. Initially, Australian horse owners were reluctant to vaccinate simply because of the cost—about $100 every six months, a significant burden for breeders and rural owners with dozens of animals. But when horse owners began to feel that they were being forced to do something that might just harm the animals they loved, a full-fledged anti-Hendra-vaccine movement blossomed.
In early 2013, a woman named Wendy Sullivan purchased a horse named Reveleus Golden Appeal. Sullivan was told that in order for her horses to receive veterinary treatment, she would need to have them vaccinated against Hendra. After Appeal's initial injection, Sullivan noticed that his hooves looked flaky and dry, like crocodile skin, and she used a homemade herbal ointment to try to manage the condition. After Appeal's booster shot six weeks later, things got worse. Appeal's heels swelled up like balloons. When she tried to ride him, they bled. In September 2015, Sullivan took Appeal to the University of Queensland at Gatton, where a veterinarian named Andrew Van Eps diagnosed him with an autoimmune disease called coronary band dystrophy.
Sullivan had heard murmurings online about adverse reactions, and she became convinced that the vaccine was responsible. "Do not vax your horse!" she warned other equestrians on Facebook. "I know this boy like I know my children," she wrote. "I saw the change. The time frame. His feet after the booster. It is like when you notice something 'different' in a child. Once you have kids with needs you are more alert to 'change' than others. You see things … others miss. I saw the change. I know … but cannot prove."
Her suspicions were reinforced when Van Eps advised her not to give Appeal any further vaccinations. Now at the University of Pennsylvania School of Veterinary Medicine, Van Eps says his recommendation was standard for any animal with an autoimmune disorder, and that there's no way for Sullivan to know whether the vaccine was a trigger or if Appeal would have developed it anyway. "Anything that happens within a few months after the vaccine gets blamed on the vaccine," he says. "She's made that leap, not me."
To date, the Australian Pesticides and Veterinary Medicines Authority has recorded 918 probable or possible vaccine reactions from the half-million doses of vaccine that have been administered, a figure that places it among the safest vaccines sold. These reactions range from mild swelling and muscle stiffness to colic. Seven horse deaths are "possibly" associated with the vaccine. In addition to serious side effects, horse owners have also expressed concerns that the vaccine impacts performance in track races and endurance rides. (Peter Reid recently published a study of thoroughbred horses that showed no performance differences.)
These statistics hold little sway with vaccine opponents, who see a conspiracy at every turn. "It's the money," one horse breeder, Kathy Drew, told me. "Look at Zoetis's shares, look at their growth!" Horse owners started Facebook groups with names like "Hendra Vaccine Reaction" and "
Pro Choice for Hendra
" to share their own takes on science and news related to the vaccine.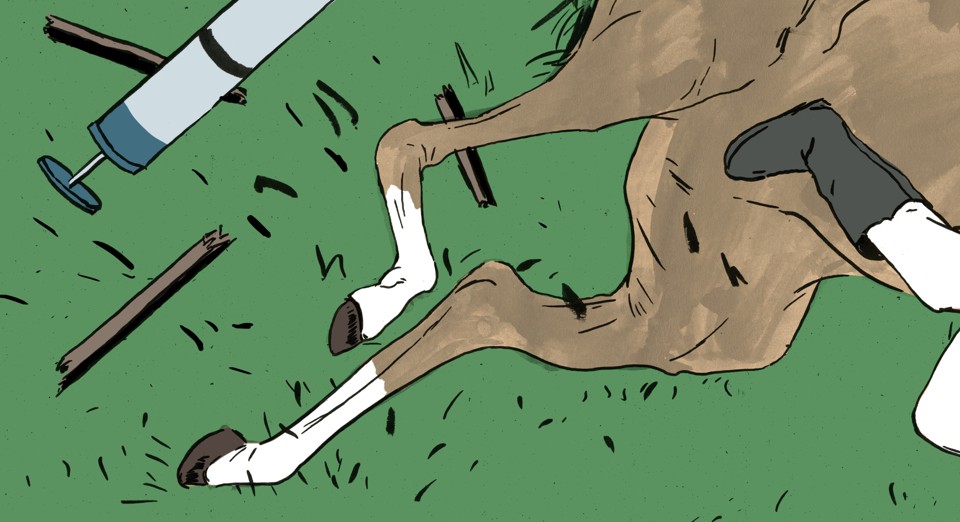 Horse owners began attacking other horse owners. When a popular long-distance riding event in Queensland, the Far-a-Way Easter Endurance Carnival, began requiring all horses to have a Hendra vaccination certificate last year, one riding club went rogue, launching an "unvaccinated-only" ride the same weekend. "They were pretty dirty with the whole thing," says Saasha Grogan, one of the organizers of the Far-a-Way ride. "They went to the media and slammed our club, saying nasty things about how we were excluding people from our event." Lyndell Abercrombie, the organizer of the competing event in the Lockyer Valley, counters that it was the vaccine opponents who have been mistreated. "We respect their right to vaccinate, but they don't respect our right not to vaccinate," she says, adding, "There is a big cloud over the vaccine. It has not been proven 100 percent safe."
The brunt of the anger of vaccine skeptics has been reserved for veterinarians, some of whom began refusing to treat unvaccinated horses or attend unvaccinated events. Vaccine opponents argued that because the virus is so hard to catch, vets should just put on masks and protective gear."The virus is so fragile, that you need to be stupid enough to wade in heaps of bodily fluids without wearing proper KIT approved and made to meet stringent workplace health and safety standards," Wendy Sullivan wrote in one Facebook comment.
The pro-vaccine camp hasn't sat quietly, either. One post on the pro-vaccination Facebook group "Hendra Virus and Refuting Pseudoscience" featured a picture of an unvaccinated horse that had fallen into a septic tank. "Isn't it pathetic when people who let their unvaccinated horse get trapped in a septic tank continually criticize vets?" the post read. Excrement-related puns followed. That page also featured screenshots of posts from anti-vaxxers, marking them up like failing exams. The potshots irritated the anti-vaxxers enough that they started rooting out "moles" from their own groups. "Is this site being run by vets?" one anti-vaxxer asked about the "Pseudoscience" page. "If it were left to me, I would be locked up for assault," said another.
---
In 2014, tensions reached a breaking point. In June, Janine Dwyer, who runs All Horses Veterinary Services south of Brisbane, went to examine an unvaccinated horse that was rocking back and forth, exhibiting symptoms consistent with Hendra. When Dwyer arrived at the farm, she put on her protective gear and took a blood sample for analysis. Because the horse's high temperature suggested that it could potentially harbor a bacterial infection, she also left several doses of penicillin that the owners could inject themselves. By the time she got home that night, however, the owners called to tell her that horse was thrashing around on the ground and they planned to euthanize it. Ten minutes after the animal's heart stopped, the Hendra test came back positive.