26 Jul, 2018
,
Source:
The 33-year-old was worried there would be a huge rush of mainlander Chinese parents taking their children to Hong Kong to get vaccinated, and that it could push up the price – or worse, lead to a vaccine shortage.
By midday on Monday, she was in Sheung Shui, just over the border in Hong Kong, with her five-year-old boy. By 4pm, they were back in Shenzhen after her son had been given a booster shot of a four-in-one vaccine against diphtheria, tetanus, whooping cough and polio.
"I feel a bit ashamed about crossing the border to snap up a vaccine, and I totally understand if Hong Kong people resent us for doing it, but it's just what I've got to do as a mother," Liu said.
Five years ago, mainland Chinese parents were flocking to the city to buy supplies of infant milk formula, resulting in shortages that saw the introduction of a two-tin export restriction. Now, Hong Kong – where all vaccines for children are imported foreign brands – is again being seen by parents like Liu as a place to find safe products as another public health scare unfolds.
Two vaccine makers – Changchun Changsheng Bio-technology and the Wuhan Institute of Biological Products – have been found selling ineffective DPT (diphtheria, whooping cough and tetanus) vaccines that were given to children as young as three months old under government health programmes in Chongqing, Shandong and Hebei provinces. Fifteen executives from Changsheng Bio-tech, including chairwoman Gao Junfang, have been placed under criminal detention, Changchun police said on Tuesday evening.
Liu said the Hong Kong clinic was inundated with calls from mainland China while she was there.
"The phone at reception was constantly ringing. My doctor said it just wouldn't stop and they had to switch to a Mandarin-speaking nurse on reception," she said.
Hong Kong-based WaiKong Health Management Services also said its phones had been ringing non-stop since the scandal broke. The agency, which arranges medical services like vaccinations in Hong Kong for mainland Chinese, took more than 30,000 calls from parents over the border from Sunday until Monday evening, and there was no let-up on Tuesday, according to sales representative Kelvin Liang.
He said the agency's client base had grown over the years, and they were not just from neighbouring Guangdong province – some came from as far away as Harbin in northern Heilongjiang province.
"Some of them come to Hong Kong for particular vaccines that aren't available in mainland China, like pneumococcal vaccine Prevenar 13 before it was approved in China. Some choose to have almost all of their children's immunisations done in Hong Kong," Liang said. "Cost is not an issue and they come to shop or visit Disneyland at the same time."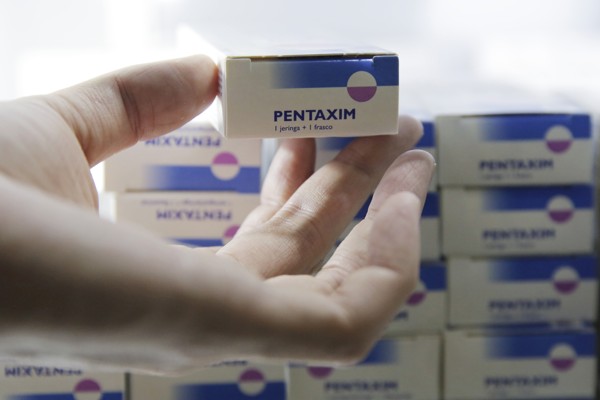 Liu decided after her son was born premature that she did not want to take any chances, and she would take him to Hong Kong for his full immunisation programme, apart from the two shots he was given as a newborn.
"The community clinic is just downstairs from where we live, but I'd rather make the journey across the border for this," she said. "The doctor in Hong Kong opens the packaging in front of me and explains the possible side effects, and any symptoms to look out for … it means I'm not worried. I think any money I've spent on coming to Hong Kong for this is well worth it."
Down the track, Liu said she would be prepared to travel to Japan or Taiwan to have her son vaccinated if the city decided to impose restrictions on non-residents.
In 2013, the Hong Kong government placed a 1.8kg limit on infant formula being taken out of the city after mainland Chinese parents began buying up the product in the wake of the melamine-tainted milk scandal in 2008 that killed six babies and sickened 300,000 others.
A cap was also imposed on public health clinics in the city in 2016, limiting them to providing vaccinations for a maximum of 120 non-local children per month. That was a move to reassure Hong Kong parents amid fears of a vaccine shortage after it was revealed that 570 million yuan (US$84 million) of improperly stored or expired vaccines had been illegally sold across mainland China for years.
The supply of DPT combination vaccines remained stable in Hong Kong on Monday, according to a statement from the city's health department.
Liu said although she believed the authorities were serious about addressing the problems, she was still anxious about the general safety of mainland Chinese products.
"What about the people lower down the chain who are actually handling these products? I don't have confidence that they will respect all the regulations," she said.
For other mainland Chinese mothers, it is just not possible to take their children to Hong Kong for vaccinations several times a year, so the next best thing is imported vaccines.
These can be found at clinics in mainland China, but they are not always in stock. About 18 million imported vaccines were released into the supply chain in China last year, according to the National Institutes for Food and Drug Control, the agency responsible for releasing vaccine lots. They accounted for 2.1 per cent of all vaccines in the market.
Shen Jing, who lives in Shanghai, said she did not want to take her one-year-old baby girl on a plane to Hong Kong, so she would try to get hold of vaccines made by big international brands instead.
"But there are no foreign brands for some vaccines, so if that's the case, that's it. I'll just have to pray no faulty vaccines are found in Shanghai," Shen said.