"That means a lot of protection but it doesn't give us herd immunity," Dame Sally said.
"So when people from abroad have been coming in, travelling infected, it is spreading into our local communities."
Catch-up jabs
The MMR vaccine is given on the NHS as a single injection to babies, usually within a month of their first birthday.
They then have a second injection before starting school, when three years old.
Children who missed an earlier MMR vaccination can have a "catch-up" jab on the NHS.
Single measles, mumps and rubella vaccines are available but not on the NHS in the UK.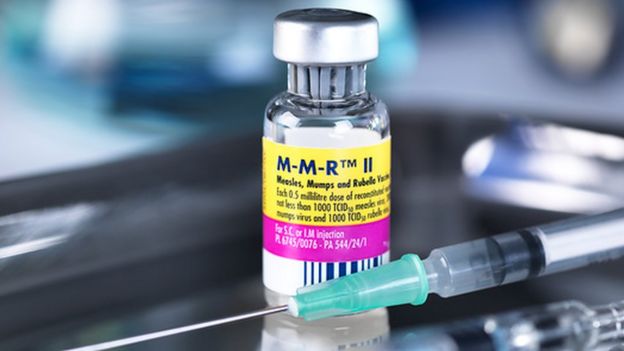 In 1998, a study by former doctor Andrew Wakefield incorrectly linked the MMR vaccine to autism. The research is now completely discredited.
But it had an impact on the coverage of the vaccine, which dropped to about 80% in the late 1990s and a low of 79% in 2003.
Numerous public health campaigns have increased uptake in the years since.